Open letter to the US presidential candidates, Ms. Hillary Clinton and Mr. Donald Trump
By José Daniel Ferrer, General Coordinator of UNPACU
September 2, 2016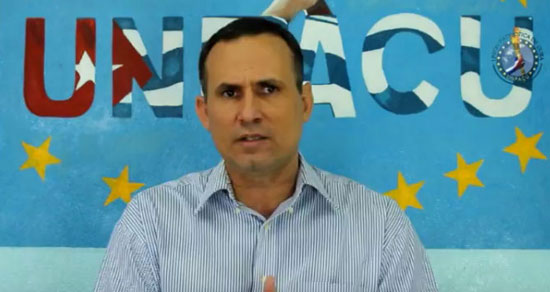 Dear Ms. Clinton and Mr. Trump,
The one who writes this letter is a non-violent opponent of the ruling tyrannical regime in Cuba. I am forty-six years old, and I have endured eight years in prison in subhuman conditions for political reasons. Never before had I been allowed to get out of my country. On May 18th, thanks to efforts of the US administration, I could travel to this great nation; and next Monday, September 5th, I will be back to my suffering motherland to continue the fight from within for freedom, democracy and the welfare of my people.
During my trip through several US cities, I have had the chance to assess and enjoy the rights, liberties, opportunities and development achieved by a free and hard-working people like yours. In a place where fundamental human rights are respected, where there is an open and competitive economy, citizens can develop their life projects and achieve the greatest degree of happiness. The USA has provided refuge to millions of persecuted citizens in the world. Here, they have been able to rebuild their lives. Here, many Cubans have found their second homeland.
In the USA, I have had the opportunity to meet and discuss the reality of my country with government officials, with senators and
congresspeople, and with many Cuban exiles. I could openly express my criteria, which have been listened to with respect, even when my interlocutors have not always matched my judgments. Likewise, I have heard the opinions of others respectfully, although I have not Always agreed with all or part of their arguments. That is as it should be amongst civilised people and within a democracy. In my oppressed country, many of us are beaten, imprisoned and tortured due to views opposed to the governing regime.
I came to the land of George Washington, Abraham Lincoln and Martin Luther King in election time. Therefore, I should congratulate the American people for more than two centuries of uninterrupted democracy, as well as their right to elect their representatives at all levels. Unlike what happens in my country, where we have not had free elections for more than six decades and where two brothers have been tyrannising a whole nation for over half a century, the US people can decide indeed.
During my visit to several European countries —and to a lesser extent in the USA—, some individuals asked me about "how are changes going on in Cuba." Others did not even ask me that; they directly stated without reservation that things are unquestionably changing in my country. Nothing could be further from reality. So far, the economic Changes implemented by the Castro regime have been no more than mere patches, i.e. simple plasters or a few aspirins to cope with a serious illness. As for human rights, the dictatorship continues without taking the slightest positive step, whilst keeping on repressing, beating, jailing and torturing peaceful opponents.
In recent months, the Castro brothers' response to goodwill gestures from the current US government has consisted of more repression and the militarization of economy. In addition to this, we have witnessed the steady exodus of Cubans who attempt diverse ways to reach your country in search of the rights and opportunities that have been denied to them in their native land. Life in Cuba is unbearable, and many prefer to risk seeking freedom rather than living under deep misery and cruel oppression.
On behalf of the Patriotic Union of Cuba (UNPACU), I request the next president of the United States to please prioritise the issue of human rights in Cuba. Moreover, I beg the next government to be elected by the American people to increase the support of Cuban democrats as much as possible, within the US policy towards the largest island in the Antilles. Cuban democrats and Cuban people, in general, will very much appreciate any solidarity gesture, as well as every action that could help us in our struggle for a free, fair and prosperous Cuba. Every day, an increasing amount of Cubans stands up and joins the fight for a better future.
By combining political and social activism as well as disseminating its work by rudimentary means, the UNPACU is motivating and enlisting more and more Cubans to fight for a homeland "with everyone and in the interests of everyone", which was Jose Marti's dream. Those people willing to risk their lives by facing a harsh dictatorship, which is the enemy of both the Cuban society and the Western democratic model, certainly need a genuine and growing solidarity.
I truly appreciate the warm welcome that this generous nation has given to me.
Thank you very much for your kind attention,
Jose Daniel Ferrer-Garcia
General Coordinator of the Patriotic Union of Cuba